LOT-LORIEN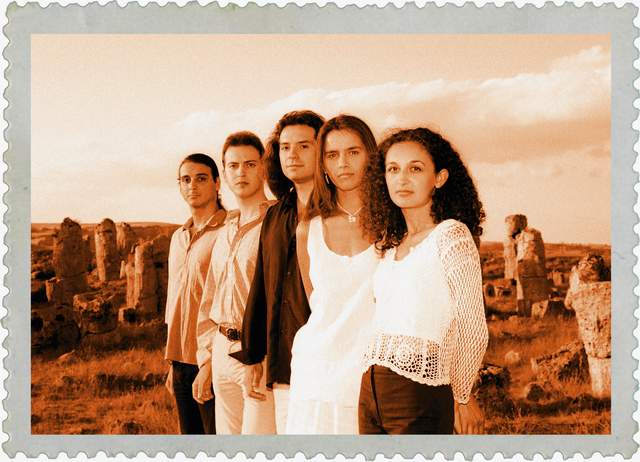 Art-formation Lot Lorien
The difference between Bulgarian band Lot-Lorien and the other groups which
compete for our attention, is that it refuses to fit into any of the recognized boxes.
It is not a pop group, not a folk group and not a jazz group, but what it attempts is music
which is a synthesis of all these and other styles as well as interesting experiments in each
of them individually. The formation has own music style, with influences from Balkan and
European folklore (world-music), jazz, medieval, acoustic new-age, and some techniques
from rock and pop. The band is based in 1992 from Kiril Georgiev (acoustic guitar, lyrics
and compositions) and Zlatomir Valchev – (drums and percussions). It was a different name
and different music style, from 1997 the name changed into Lot Lorien – the magical land of
fairies from J.R.R. Tolkien's books. Some new members came to the group (female vocal, violin,
bass as well as many new drums and percussions) and the result is one of the most unique and
versatile Bulgarian music. From 2001, the band is registered in the ministry of culture of Republic of Bulgaria.
"Bright, effortless sounding music."
ierry – "Mondomix" magazine – France
"The balance of tunes and backing is superb. Rather brilliant playing and insight."
Fintan Vallely – Listen.com music specialist- Great Britain
"The music, they are playing were born not only by influence of Bulgarian roots, but a strange mixture of European and Balkan folklore"
Pavel Komarov / "Moskovskii Komsomolec" – Russia
"In a musical point of view, there is no other band like them in Bulgaria"
Toma Spostranov "Bulgarian National Radio" & Guest DJ in BBC – London
"Structural synthesis of modern and medieval music, described us modern 'world music'
Iana Kolensinskaya "Chestnoe Slovo" – Siberia
Music gigs of Art-Formation "Lot Lorien":
Participation in:
- International Culture Festival – "Sinchon" – Seoul – South Korea (May 2001)
- International Music Festival "Korea Drum Festival" – Seoul – South Korea (May 2001)
- International ethnic arts festivals "Water of life 2000" in Republic of Gorny Altaj/Russian Federation by invitation of chief of jazz department of Novosibirsk music academy - mr. Sergei Belichenko (august 2000)
Many concerts across Bulgaria including (some major):
- The International Music Festival "Thracia Summer" Plovdiv (august 1999)
- Concert-ball in the Government residency "Boyana" – Hall 2 , by invitation from the bulgarian president - Mr. Peter Stoyanov – Sofia (may 2000)
- Ethnoart fest "Museum of the art" – Varna (august 1999,2000)
- The International Music Festival "European month of Culture" – "Bulgarian woodstock" – Plovdiv (june 2000)
- The International Music Jazz Festival "Sofia Jazz 2000" – a member of european jazz association– Sofia (october 2000)
- And many others…
The formation was presented in many bulgarian and russian radio and TV stations, including BNT (Bulgaria) , NTV (Russia) and others.. The band did two music films for Bulgarian National television: "Beyond Midnight" & "At the waves of the music"
For booking and concert gigs: P.O. Box 159, Varna 9023 , Bulgaria
Phone: Cellular: ++359-88-490408, Office: ++359-52-466308 , Fax: ++359-52-474422
http://www.lot-lorien.com / e-mail: lot-lorien@usa.net
Also the band uses guest musicians in some performances and compositions: Roman Stolyar (flute, composer, pianist, member of union of Russian Composers, lecturer of the Improvization Department of Musical Academy Novosibirsk/Russia) , Nikolay Jordanov (flute, member of union of Spanish composers, Bulgaria - lecturer of music school of Varna/Bulgaria), Nedialka Gancheva (cello, Bulgaria) , pianists and some bulgarian traditional instrumentalists
The band is the only one presented Bulgaria's music culture in the Official web page of Bulgarian embassy in the USA
http://www.bulgaria-embassy.org/About%20Bulgaria/Culture%20and%20Society.htm
Lot Lorien consciously work in, and wish to draw adherents to, Bulgarian musical traditions; they do not play to promulgate their social creed, and they are refreshingly funny about themselves and the "pop" and "folk" worlds which impinge on their own lives. They are glad that their fans do not write for information about their habits or for locks of their hair but for information about the music they perform and the techniques they use. For the future, they plan to go on playing all the types of music they like to play while continuing to develop their own style.
Future gigs and festivals.
Lot Lorien are planning tour in Macedonia when war is over there, by invitation of world famous post-rock-etno band "Kismet"
Lot Lorien are:
Kiril Georgiev – electoracoustic guitar, lod, text, compositions. Uses also mandoline.
Zlatomir Valchev – drums, percussions, darbouka, tupan, glockenspiel, etc
Petar Pavlov – bass
Galina Koicheva – violin
Bora Petkova – vocals, percussions
Alexander Kinov – Soundengineer, percussions, lod, samplings, strings
Iasen Kazandjiev – manager, adv, concert co-producer, webmaster, PR